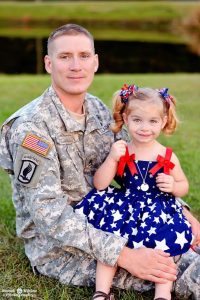 Squad Leader Jason Livingston's reasons for joining the US Army: "I wanted to serve and protect first my family and my country, to protect the freedoms that are taken for granted. I wanted a chance to see and experience the world and go places where few get to go. The army just seems like a home where I fit in and belong." SSG Livingston served in Baghdad, Iraq from December 2005 to January 2007 and in Logar Province, Afghanistan from February 2010 to October 2010.  In addition, he was stationed in Schweinfurt, Germany from April 2009 to June 2012. He has received numerous awards and decorations, including the Purple Heart for wounds sustained in combat on October 1, 2010. He has a wife and three children who have shared in his struggle brought about by wounds suffered during the war.  SSG Livingston was referred to Furnishing Hope by his mentor at Military Warrior Support Foundation.
SSG Livingston suffered from PTSD as a result of his harrowing experiences during his first deployment, which significantly complicated his readjustment to life at home. During his second deployment, SSG Livingston was injured by direct enemy mortar fire when it caused shrapnel to hit him at the base of the left side of his skull and neck, smashing his head into the side of a building. After his release from the hospital in Germany, his wife had to care for him as she would a child because of his memory loss and severely impaired mental and physical abilities. SSG Livingston still suffers from impaired memory function. In addition, numerous other problems including, nightmares, flashbacks, insomnia, eye problems, chronic migraine syndrome, arthritis, and worsened PTSD, afflict SSG Livingston. Nevertheless, he looks forward to playing with his children and eventually holding a job.
We asked SSG Livingston's wife Brandy what it would mean to have their house furnished by Furnishing Hope:  "It means a fresh new start for our family. Most of our items were ruined or broken in transportation to and from Germany and what was left the water and years have just taken a toll on. With Jason being hurt and moving back to the states and then being told that he was being med boarded we haven't had the chance or funds to be able to buy the items we need. I'm hoping this gift from you will help make our new house a home and let Jason start to feel comfortable and at ease there. I think it will also help our kid's transition as well. For our family just to know that there are really people out there that still care means the world to us."
Furnishing Hope transforms empty spaces into peaceful and comfortable homes complete with furniture, mattresses, bedding, bath and kitchen ware. All of this is provided at no cost to our wounded heroes.  We are proud to have furnished over 180 homes for our severely wounded military families in nine states and 30 cities across the US! We are planning to furnish SSG Livingston's home in July, 2015.
Please donate to Furnishing Hope and help SSG Livingston, his family and other heroes' transition back to civilian life.