Designer Julia Newman for SGT Adams
Through the month of October, Furnishing Hope is inviting designers to furnish and stage a wounded hero's home. We need you to help make these homes personal and special. We are looking for interior designers interested in shopping, coordinating, packing and installing a home. The challenge is… all this has to be done 
in one week
!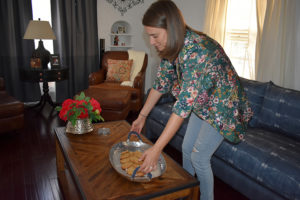 The first designer in our design challenge is Julia Newman of Julia Adele Designs. Julia has been a designer for several years; she trained at Central St. Martin in London and Otis in Los Angeles. Starting in fashion and textiles,  her focus evolved and she began designing custom furniture and then moved into interior design.
Today
she works in both residential and corporate spaces.
When asked why she joined Furnishing Hope's Designer Challenge she replied "Creating a beautiful and effective space accomplishes much more than being just aesthetically pleasing. A home, when designed right, can bring a sense of calm, safety, and relaxation while fulfilling the practical needs of the clients, whatever those may be.  A room well-matched to the needs of the client can facilitate productivity or the ability to re-charge from the hectic pace of life. It is being designed to optimize focus and build confidence. It can allow an individual with specific needs to manage their living or work space with efficiency and comfort. This is particularly important for a wounded hero, where home must meet not only their physical needs, but provide a space that facilitates their life as well as calm and comfort."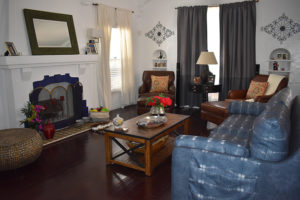 This project is special to Julia because she has family that has served in the military and are first responders. She knows how important it is that a home is safe, comfortable and "theirs," in that it is manageable and does not increase stress. Julia has volunteered with the Wounded Soldier's project and Team Rubicon. All of those experiences have shown her the physical, mental and emotional toll taken on those serving. She feels using her design skills and furnishing a wounded hero's home is her way of showing appreciation for the service they have done on behalf of our country.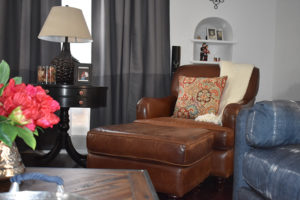 SGT Adams joined the military because of family. His father served in the Army along with his uncles. Part of SGT Adams felt he needed to give back to a county that provides freedom, the other part was seeking adventure.  In 2005 he was deployed to Iraq.
While on a routine patrol though the streets of Baghdad SGT Adams and his team were ambushed. SGT Adams survived a gunshot wound to the right side of his abdomen. He received a Purple Heart.
His plans for the future are to travel more and get a job in IT as a cyber security technician. He also wants kids, but not just yet.