Christine Chrest for Sgt Garza
Through the month of October, Furnishing Hope is inviting designers to furnish and stage a wounded hero's home. We need you to help make these homes personal and special. We are looking for interior designers interested in shopping, coordinating, packing and installing a home. The challenge is… all this has to be done in one week!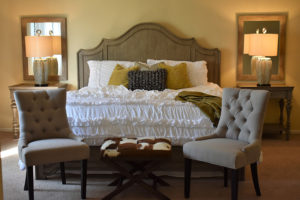 As a 20 + year interior designer working in the residential and hospitality industry, Christine Chrest of JC Christy provides turnkey solutions. From building new, to renovating, or simply providing a fresh look to a home, Christine seeks to optimize and harmonize the uses and space of interior and outdoor living spaces.
"My mission is to exceed the expectations of my clients by providing them with a professional design service, while still enhancing and expressing their personal taste. Working with the client's specifications, I aim to make their home a harmonious, peaceful and functional environment."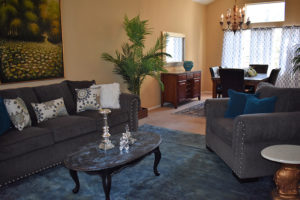 About this project Christine said, "This project has been the most meaningful and close to my heart because it not only allowed me to give of myself to help our Wounded Warrior in need, but my husband being a 24 year retired military man was very pleased as well.
When asked to join Furnishing Hope my heart leaped for joy. I saw this as an opportunity to do what I love and give back to our men and women that gave so freely of themselves so that I can be safe in my own backyard.
Our surroundings provide emotional and physical health. The reality of Furnishing Hope is exactly that. It has been a great privilege to be part of this organization."
See more of Christine's work at Www.jcchristi.com
Sgt Jackie Garza served in the United States Marine Corps for 11 years. She was Range Coach, weapons instructor and deployed to both Afghanistan and Iraq.
When Asked why she joined the military Sgt Garza replied "My grandfather was in the military, it was a big deal in our family. Also, I don't think I was cut out for a regular job, I like it rough and I crave adventure."
Sgt Garza has 2 children and is expecting a baby boy early next year. She is studying for a bachelor's degree in psychology. Because of the injuries sustained in service she is unable to work but she hopes to heal in time and start a new career.
When asked what it meant to have her home furnished Sgt. Garza said "Honestly, more peace. Because I'm always home it will add to my peace of mind. We'll have a fresh start. The last few years have been rough, with my health and finical hardship. I've been trying but we haven't been able to have anything new. Especially with the baby coming I feel like we are moving forward with life."