Carolina Chavez for Sgt. Perez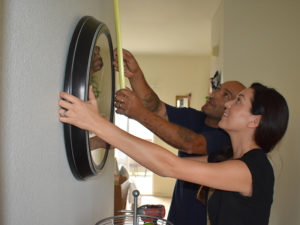 Through the month of October, Furnishing Hope has invited interior designers to furnish and stage a wounded hero's home. These designers have been shopped, coordinated, packed and installed their warriors home. The challenge was… all this had to be done in one week!
Carolina Chavez is the co-owner of the boutique design and build firm C Squared Design + Build. She runs the company along with her husband, she designs and he builds. She has architecture and interior design degrees and graduated valedictorian of her class. Creating beautiful, functional and unique design solutions for her clients is Carolina's passion. She has experience in designing kitchens, bathrooms, small commercial spaces, model homes and custom furniture.
When we asked Carolina what it was about the military that made this project special to her she said "My father served in the U.S. Navy and the Coast Guard. When he passed away I began donating my time to various Veteran charities, but mainly the Veterans Holiday Celebration held at the West LA Veterans Hospital each December. The men and women Veterans I have met over the years are so incredibly inspiring, they have sacrificed so much for our country and ask for nothing in return. They were my saving grace; they helped me cope with my loss as I helped bring a little sunshine to their day."
Furnishing Hope's design challenge was the perfect opportunity for Carolina to use her talents and help people at the same time.
See more of Carolina's work in Facebook – https://www.facebook.com/csquareddesignbuild/
Or on Instagram at –  https://www.instagram.com/csquared_designbuild/
Sgt Hector Perez joined the military because of the attacks on 9/11. He served in Iraq and Afghanistan.
March 31st, 2011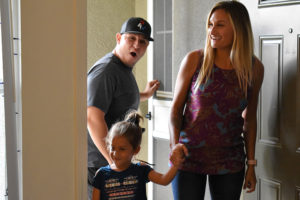 Sgt Perez suffered a fractured vertebrae, herniated and ruptured disc, nerve damage to left leg and right foot and optic damage to his left eye because of a roadside bomb in Afghanistan. He was awarded a Purple Heart.
When asked how it feels to have a furnished home Sgt. Perez said "It's an incredible feeling to live in a home with furniture of your own. It truly feels like a home, cozy and comfortable."
Prior to having Furnishing hope deliver furniture Sgt. Perez had been borrowing furniture from his mother-in-law. The entire family was over joyed with their home, telling the designer "Everything is perfect, you nailed our style and tastes. We are so excited!"