Designer Danielle Murrieta for Sgt Velasquez
Through the month of October, Furnishing Hope has invited interior designers to furnish and stage a wounded hero's home. These designers have shopped, coordinated, packed and installed their warrior's home. The challenge was… all this had to be done in one week!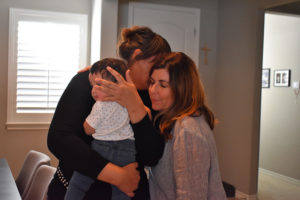 When asked what about this project inspired Danielle, she responded, "When I was first introduced to the family I learned that there is a baby and young boy living in the home. I was sent photographs of their house; a big, beautiful home and they do not have anything other than the bed in master bedroom and a sectional in the family room. I felt that the kids needed their own things and a space to call their own."
Danielle Murrieta has been an interior designer for the last 17 years. StudioDMM is her full service interior design and staging firm specializing in residential renovation projects of all sizes from conception to completion. Whether it's restyling a specific space with furnishings and décor to single room and entire home renovations to staging properties being listed for sale, studioDMM can create beautiful and innovative spaces that are unique, beautiful, timeless and reflect our client's personality.
"I wanted to find an organization where I could volunteer and give back my time and talents. I came across Furnishing Hope on Instagram and I reached out to them. I knew it was a perfect fit for me. I love the quick turn around and can deliver a beautifully designed project." – Danielle Murrieta
See more of Danielle's work at www.studiodmm.com
Sgt Jose Antonio Velasquez was awarded a Bronze Star with Valor and a Purple Heart. He served for over 10 years in the United States Marine Corps.
We asked Sgt Velasquez to tell us about his family, "My wife's name is Zaira and we've been married over 10 years. She is my caregiver and the love of my life. My son is 7 years old and he loves everything military and Star Wars. My daughter is a beautiful little trouble maker."
Having a furnished home is a dream come true for the Velasquez family. Having so little in their home was a constant reminder of their struggles. Now they'll be able heal in comfort at home and began a new chapter in their lives.​