Designer Bon Abedeen for Cpl Weber
Through the month of October, Furnishing Hope has invited interior designers to furnish and stage a wounded hero's home. These designers have shopped, coordinated, packed and installed their warrior's home. The challenge was… all this had to be done in one week!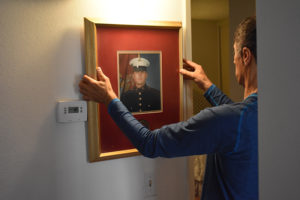 When asked what inspired the design, Bon Abedeen said "Nick & Liz are warm weather people who have a love for nature and the outdoors. I wanted to bring natural elements into the mix by using earth tone colors as inspiration, such as a clean palate with green and blue accents — that's where I came up with my color combos. I kept the big pieces neutral. The sofa and chairs — anything that's expensive and an investment remained neutral while accented with Blue/Green.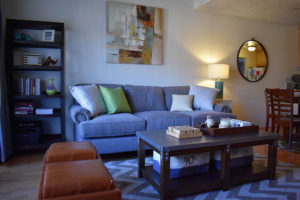 Nick & Liz are also full time students as well as parents to two daughters. This inspired me to make their home not only beautiful, but also having form and function.
And lastly, some bedroom inspiration!! When Liz comes home from school, she has her private space to chill out, I always think to myself, if I were living in this home, what would make me feel the most comfortable?! And that's exactly what I start looking for, such as a cozy yet bright space and of course, a relaxing suite for mom.
My goal was to have them walk into the home and be transported, which is not a bad goal for a well-designed space."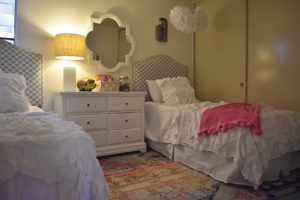 Bon Abedeen started in interior design after realizing she needed a change in career; one that was perhaps more challenging, more thought provoking and yet tested the boundaries of form, function and expression. A career that answered the true "why's" and "how's" of one's creative soul. Bon quickly developed a thirst for the arts, from interior design and architecture to Illustration and Photography. She wanted to immerse herself in all that encompassed design.
See more of Bon's work at www.boninteriordesign.com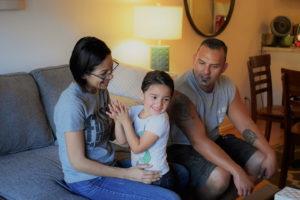 Corporal Nickolas Weber always wanted to join a branch of the military, be a policeman or fireman. He wanted to help others and decided to join the finest fighting force in the world. He served for 5 years.
When asked about how he was injured while serving he said, "I was out on a mission when either because of faulty parts or damage due to the enemy we had to make an emergency landing. We took a hard landing and I was tossed around the cabin of the aircraft."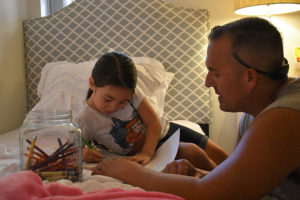 Cpl Weber is a proud father of two beautiful girls. He is married to the women of his dreams and looks forward to the adventures of life with his "partner in crime".  Cpl Weber lost his brother to suicide 2 years ago. This loss has motivated Cpl Weber to go back to school and work towards a doctorate in Psychology. He hopes to help other veterans or anybody with a willingness to seek assistance for becoming their best self. He is hoping to transfer to UCI or UCLA in the fall of 2018.
When asked about how it feels to have a furnished home Cpl Weber responded, "its one thing to have 4 walls and a roof over your head, but another to have the basic necessities for living. Because of Furnishing Hope I will be the hero of my family. They will have what they need."​​​​