Emilie McVay for William Franklin
Through the month of October, Furnishing Hope has invited interior designers to furnish and stage a wounded hero's home. These designers have shopped, coordinated, packed and installed their warrior's home. The challenge was… all this had to be done in one week!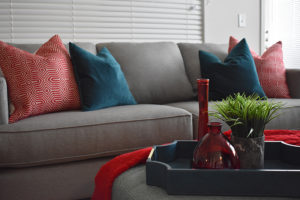 When asked what it was like to work on this project, Emilie McVay replied "When I first heard William's story, I definitely wanted to help and contribute being that my brother works with the military and homeland security. Because I do staging for a living I thought, how fun, I get to actually see someone enjoy the benefits of what I do and what I've done my whole life."
The fact that William has two young daughters and recently received sole custody, touched Emilie. "He is dedicated and works hard to provide for them." She said.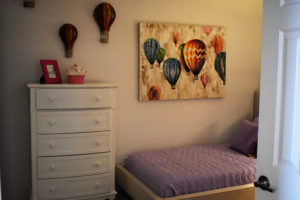 As inspiration, Emilie used William's favorite colors; teal and red. She also knew that he loves the beach and modern styles.
Emilie earned a B.A. Degree in Environmental Factors & Interior Design from CSULB. She worked for 3 years at the Design Center South in Laguna Niguel. For over 20 years she has successfully operated her own residential interior design business. She has an eye for space planning, kitchen and bath remodels, window coverings, lighting, furniture, and knows how to skillfully incorporate art work and accessories to make a house into a home. She brings all aspects of residential interior design experience to staging a home or rental property.
See more of Emilie's work at www.luminousstaging.com
After seeing his furnished apartment for the first time William Franklin said "It's amazing. I never dreamed in a million years it would be… it's unbelievable. I would just like to thank everybody from the bottom of my heart. From me, Isabelle and Maddie, we thank you so much.
William's plans for the future are to be the best Dad and man he can be. To take care of his girls and give thanks to God for his life. He hopes to create unique art and give to people that are less fortunate.