Our Hero… Sgt Danny Novoa
It was Sgt. Danny Novoa's dream to join the military since the 5th grade. We asked him to tell us his story…
"I went into the Marine Corps in 2002 and was medically retired in 2014. I did 4 combat tours; 2 to Iraq, then I went to Afghanistan, and then back to Iraq. In 2008, I was in Fallujah. The 4th time, I guess was a charm….I got blown up by a roadside bomb. I spent 9 months in the hospital. I had to learn how to walk and talk again. It was kind of funny because I didn't know what was going on, I didn't remember anything. It wasn't until 4 months of being in the hospital that my ex-wife told me that they were thinking they had to cut off my legs. But, the surgeries took. Then they thought I would be blind;  I'm actually now blind in my left eye. I have seizures from the blast.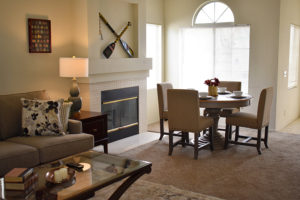 So that's why I have him (Danny looks down at his service dog). He lets me know when I'm going to have a seizure. It's great. We've been together 5 years now.
It's hard to believe it's been 10 years and I'm still trying to… I just had ear surgery on Tuesday to repair my ear drum. They were both blown out. They are trying to rebuild an ear drum for me. I don't know, hopefully it takes. I can't complain. I'm still alive, I can see, I'm walking. The good thing is you can't tell anymore. By looking at me, you wouldn't know what happened. All my teeth are fake and I had a gnarly scar that went across my face. It's been a long road.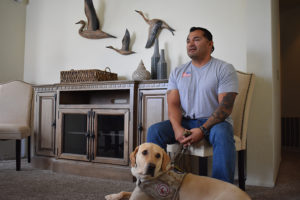 I'm trying to find my "new me" now. Trying to be happy. When Will, (another Furnishing Hope recipient) was telling me that you could help me out with furnishings, I thought "wow, that's really cool"! Will and I have known each other for about 6 years now. We weren't in that same unit together;  he was in a different unit, but he walks and talks like me. We are both part of an organization called Warfighter Made. We help catastrophically injured veterans; single, double or triple amputees. We adapt hand controls for their vehicles. Many of the guys don't like driving those ugly vans. We'll also take Veterans out on trips to the desert. Just to go and have some fun.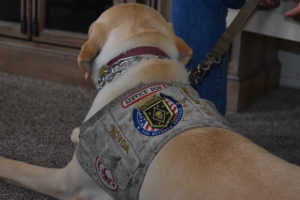 "It looks totally different in here" Sgt. Novoa says as he is looking around at the furnishings. "I didn't think it was going to look like this at all!  I've been here 5 months. It's kind of hard, transitioning over, and then a divorce and all that. I want my kids to have the same routine, that's the main thing. This actually, wow, it really helped me out a lot. It makes it more like a home, I'm really impressed. Wow, really, I'm totally shocked. I'm loving it, it's great. I'm speechless to be honest with you guys. Thank you so much!"