"In Mike's case, he is unstoppable. He never lets his injury get in the way of what he wants to do. He inspires me every single day. He never stops, never gives up, never takes no for an answer. There is nothing he can't do. I believe a lot of that is from being in the Marine Corps, having that drive, that spirit." Kris Coetzee.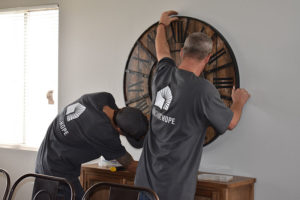 Michael was born in Camp Lejeune, North Carolina and grew up in Abilene, Texas. He enlisted in 2005 because it was time to commit to a career and he was drawn to serve. He became a combat engineer in the Marine Corps. Michael did two combat deployments. One was to Iraq, and one to Afghanistan. In December, 2010, Michael was hit by IED and lost his left arm below the elbow. He also suffered shrapnel wounds to his back and legs.
Michael and Kris's love story started online; a modern couple. Michael had transitioned out of the military 3 years prior. Kris's sister talked her into joining eHarmony because many of their friends had found love on the site. It wasn't long before Mike was on a plane from Colorado and they were meeting for the first time.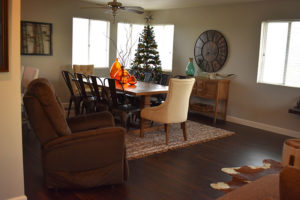 Now, 2 and a half years later, Kris still thinks Mike is the kindest man she has ever met. "When I'm sick, he makes me soup, he makes me lunch every day before work, he cooks dinner for me when I get home. He's amazing."
On November 28, 2017, Furnishing Hope had the honor of meeting Kris. Kris is engaged to Michael and they share a home in Spring Valley, CA. At 10am the Furnishing Hope team arrived with a truck load of furniture, supplies and home décor. Their gift to Michael for his service and sacrifice.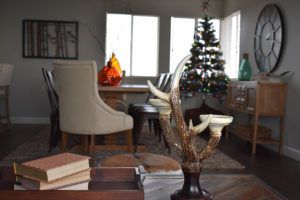 When seeing the newly furnished home for the first time, Kris was excited. She was amazed that they had brought and decorated a Christmas tree. "It is all so beautiful; this table is something out of my dreams! To be able to entertain…it's so open and inviting!" The living room and dining room are Kris and Michael's favorite spaces; it's where they spend most of their time at home. Michael chose that home in that location because he needs open space. He has a difficult time in crowds. It's in the mountains, but close enough to the beach so he can surf. It has 4 rooms which they plan to fill with children someday soon.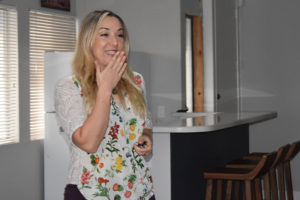 "We lived with nothing for the longest time. We didn't have furniture; the home didn't even have proper flooring. I think that for a longest time, having the house the way it was; part of Mike's trips snowboarding was him escaping. He didn't have somewhere to come home to. Now it's a sanctuary and a home, not just a roof over our heads." Said Kris.
Michael Spivey is currently in Finland, where he is training for the Paralympics and hoping to get on the US Team.  He is a snowboarder.